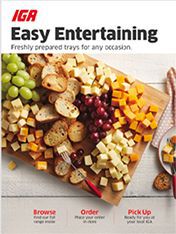 Freshly prepared trays for any occasion
Whether it's for a few or a few hundred, we have a variety of fresh, delicious platters to help with all your entertaining needs. So you spend less time in the kitchen, more time enjoying the event.
Visit your local IGA Deli Manager to discuss your choices and your pick-up time and date. We're happy to help with any special requests or instructions. Since all our platters are made fresh for you, please allow a minimum of 24 hours' notice when placing orders.
Due to the seasonality and market availability of some items, it may be necessary for some substitutions to be made. Items may not be exactly as shown. Some trays or items may not be available at all stores.